Destination Management and why it's important
Destination Management brings together different stakeholders to achieve the common goal of developing a well-managed, sustainable visitor destination. It is an ongoing process that requires destinations to plan for the future and considers the social, economic, cultural and environmental risks and opportunities.
Destination Management Guidelines
Destination Kaikōura along with K.I.T.I Board are in the initial planning stages of our Destination Management Plan, updates will be provided as we continue this process.
All Regional Tourism Organisations (RTO's) are being funded by the Ministry of Business, Innovation and Education (MBIE) to lead the development of Destination Management Strategy & Plans. Destination Kaikōura are facilitating Kaikōura's DMP strategy. Other stakeholders and partners in this process include Kaikōura District Council, Te Rūnanga o Kaikōura, Ministry of Business, Innovation and Employment (MBIE), Department of Conservation (DOC), and Waka Kotahi New Zealand Transport Agency, and representatives of the business, tourism sectors and neighbouring regions.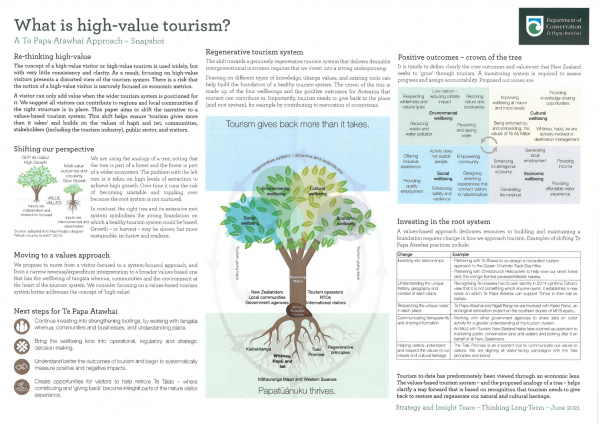 Media Release - Kaikoura DMP 21 March 2022
Reimagine Kaikoura Recovery Plan - Post EQ
The Kaikōura Destination Management Plan Advisory Group includes the following representatives:
Lynette Buurman - DMP Advisory Group Chair
Lisa Bond - Destination Manager for Destination Kaikōura
Murray Dickson - Kaikōura District Council
Hariata Kahu - Te Rūnanga o Kaikōura
Chevy Allen - Te Rūnanga o Kaikōura
Kim Boyce-Campbell - Community Representative
Chris Sturgeon - Community Representative
Krissy Griggs - Visitor Industry Representative
Thomas Kahu - Visitor Industry Representative
Mike Davies - Dept of Conservation
James Caygill - Waka Kotahi
Neroli Gold - DMP Admin
Anton Wilke - DMP Advisor